Nature's Most Potent Metabolic Activator That Shields You From Overeating and Unsightly Belly Fat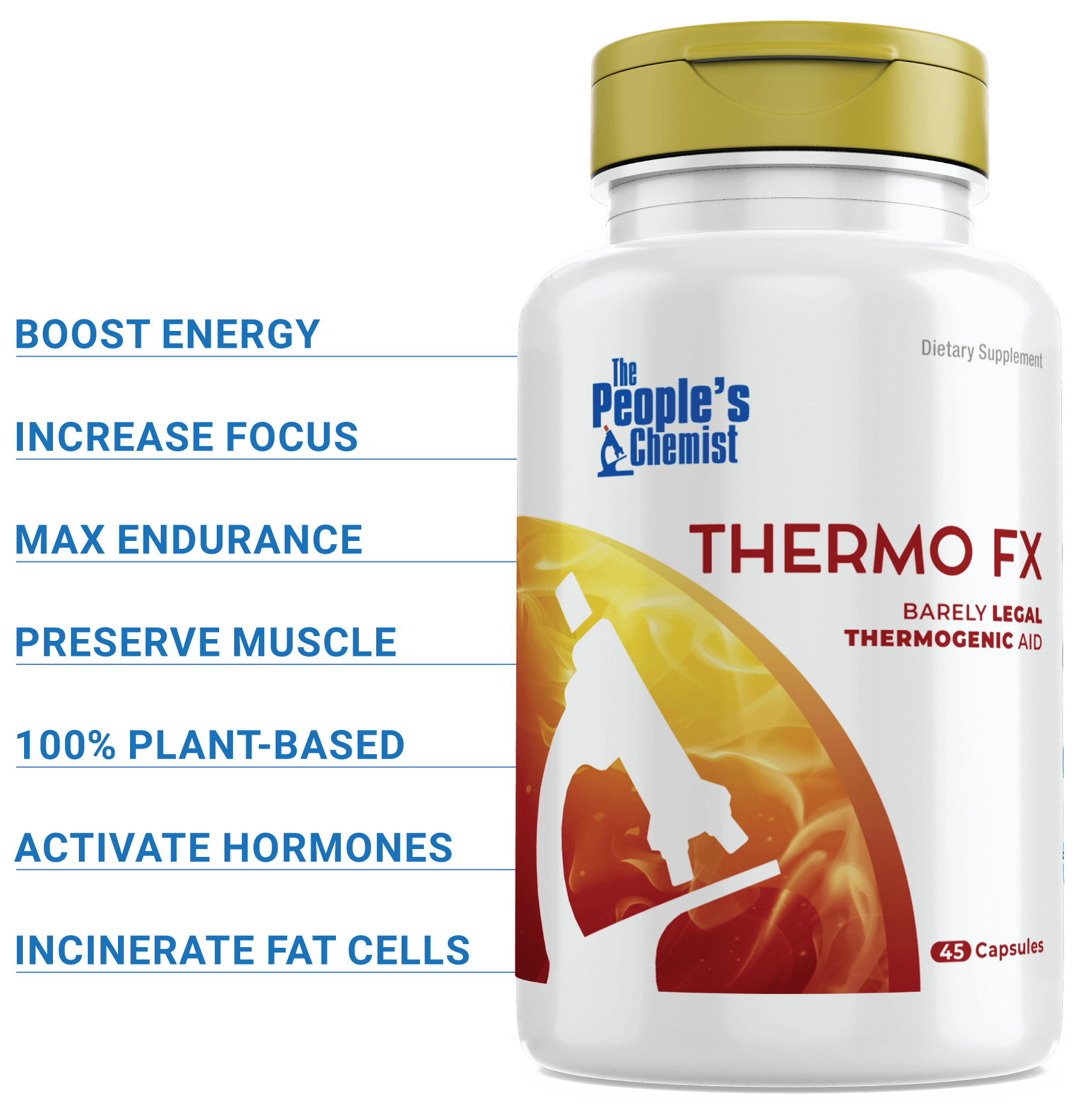 15% OFF 3 BOTTLES OR MORE!
THE SCIENCE
Throughout the U.S., metabolism is being suffocated by sugar, artificial flavors, alcohol, and prescription meds. The result has been decreased athleticism and a rising death toll from obesity and diabetes. 
For over two decades, Thermo FX has been on the front lines of the obesity war! It's the only plant-based medicine proven to curb hunger and trigger thermogenesis—the conversion of fat into heat and energy. Using it is the easiest way to kickstart a sluggish metabolism.
"Thermogenesis" is a biochemical state that selectively burns fat in problem areas while while preserving lean muscle. It can take up to 3 hours of exercise to achieve this highly sought after phenomenon. That's because an overweight body prefers to burn sugar and store fat, rather than use fat for energy.  Thermo FX repairs this metabolic flaw.  Once done, ravenous cravings cease and the body begins to shed fat. 
Using a scientifically formulated blend of Yerba mate, Zhi Shi, white willow bark, Guarana and yohimbe bark, Thermo FX activates fat metabolism within 26 minutes — without eliciting high blood pressure or a feeling of "jitters" common to stimulant-based fat burners.  It only takes a matter of weeks to start noticing the effect. More importantly, Thermo FX is the "insurance policy" against overeating, obesity and its awful health complications.
Thermo FX uses a plant-based blend of medicinal ingredients that target the metabolic centers of the nervous system - known technically as the Beta-adrenergic system.  This trigger leads to lipolysis, the breakdown of fat.
In all models of obesity, the Beta-adrenergic system is dysfunctional and the ability to stimulate lipolysis and increase sensitivity to insulin is impaired.  The end result is a loss in exercise-induced fat metabolism.  This is why exercise fails so many people who are trying to live thin.  Thermo FX reverses this loss of metabolic activity. It forces the mitochondria of every cell to burn fatty acids while preserving muscle courtesy of thermogenesis.
Most Trusted Ingredients in The World
Yerba Mate

Yerba mate tea was popularized in South America. It's obtained from the dried leaves and stems of the evergreen shrub-tree Ilex paraguariensis. The indigenous people have used it for hundreds of years as a social and medicinal beverage. Scientific research has proven it to protect kidneys, boost energy and act as a natural diuretic while curbing appetite. It has also been reported to prevent and the cause of some types of cancers by acting as a potent antioxidant.

Salicin

Salicin is a natural anti-inflammatory and pain-killer derived from white willow bark. It used in Thermo FX to increase endurance, circulation and distribution without negative side effects common to aspirin.

Guarana

Guarana is valued in the Amazon regions for its antidepressant properties and for its ability to increase focus, memory and overall energy. These effects are attributed to the high content of bioactive compounds known as methylxanthines and flavonoids. It's the healthy replacement to synthetic caffeine (anhydrous caffeine) currently poisoning energy drinks and powders.

Zhi Shi

Zhi Shi is also known as bitter orange and has been popularized by it's discovery among organic chemists studying metabolic manipulators. Besides its scientifically proven antimicrobial, antioxidant, cytotoxic, anxiolytic, and antidiabetic effects, it is most commonly used for weight loss and as sports performance enhancer. More than 2 decades of study have proven that Zhi Shi does not cause adverse effects in heart rate or blood pressure or change in electrocardiographic data, serum chemistry, blood cell counts, or urinalysis.

Marshmallow Root

Marshmallow root comes from Europe, Western Asia, and Northern Africa. It's been used as a folk remedy for thousands of years to treat digestive, respiratory, and skin conditions.  It's best known for its ability to coat and protect the stomach discomfort or GERD that might come from taking herbal medicines.

Cayenne

Capsaicin (trans-8-methyl-N-vanillyl-6-nonenamide) is the principal pungent component in cayenne, jalapeños, and habaneros.  As an isolate, its use dates back to 7000 BC as recorded by Mexican Indians.

Capsaicin is unique among naturally occurring compounds because the initial neuronal excitation evoked is followed by a long-lasting refractory or healing period, during which the previously excited neurons are no longer responsive to a broad range of illness and stimuli. This process is referred to as desensitization and has been exploited for its therapeutic potential, namely increasing circulation, thwarting blood clots, inhibiting pain and forcing potentially cancerous cells to commit suicide (apoptosis).

Yohimbe

Yohimbe Bark is best known for its active compound, yohimbine.  Used lightly in Thermo FX, it potentiates the time at which the metabolism is forced to burn fat over glucose.
The Research
"In essentially all animal models of obesity, the PAR system [Beta-adrenergic system] is dysfunctional and the ability to stimulate lipolysis [fat metabolism] and thermogenesis [conversion of fat to heat] is impaired. Nevertheless, we and others have shown that selective Beta-adrenergic agonists are able to prevent or reverse obesity…"

— Departments of Pharmacology and Psychiatry and Behavioral Sciences, Duke University Medical Center


"Citrus aurantium L. (Rutaceae), commonly known as bitter orange, possesses multiple therapeutic potentials. These biological credentials include anticancer, antianxiety, antiobesity, antibacterial, antioxidant, pesticidal, and antidiabetic activities."

"The present review focuses on the different biological activities of the C. aurantium in animal and human models in the form of extract and its pure secondary metabolites. Finally, it is concluded that both the extract and isolated compounds have no unwanted effects in human at therapeutic doses and, therefore, can confidently be used in various dietary formulations."

— Oxidative Medicine and Cellular Longevity

"This review summarizes current information regarding the safety of C. aurantium (bitter orange) extract and p-synephrine based on human, animal and in vitro assessments as well as receptor binding and mechanistic studies. The data indicate that based on current knowledge, the use of bitter orange extract and p-synephrine appears to be exceedingly safe with no serious adverse effects being directly attributable to these ingredients."

"No significant changes occurred in systolic or diastolic blood pressures, blood chemistries or blood cell counts in control or p-synephrine treated groups. Small, clinically insignificant differences in heart rates were observed between the p-synephrine plus naringin and hesperidin group and the p-synephrine alone as well as the placebo group. No adverse effects were reported in the three groups. Bitter orange extract and p-synephrine appear to be without adverse effects at a dose of up to 98mg daily for 60days based on the parameters measured."

— Food and chemical toxicology : an international journal published for the British Industrial Biological Research Association

"The safest and most effective thermogenic aids come from the leaves of the yerba maté tree. Unlike wannabe thermogenic aids on the market today that are loaded with green tea, coffee bean, or caffeine, yerba maté doesn't cause jitters or shakes. And even better, it actually works at the molecular level to convert sugar burners into fat burners."

"Native to South America, yerba maté is wildly popular as a tea world- wide. Only recently have its anti-obesity effects become more understood. Chemists have discovered that the yerba maté leaf contains numerous active ingredients—chlorogenic acid, methylxanthines, and saponins."

— Excerpt Over-The-Counter Natural Cures Expanded Edition
WHAT OUR FANS SAY
"It's one thing to run a marathon. It's another to qualify and finish the Boston Marathon. This photo was from my 6th consecutive Boston finish next to Meb, a long distance running gold medalist. I use Thermo FX before all my workouts. It helps me maintain and hit my high targets. It's part of my training regimen."*

Babes, Texas
"I love using Thermo FX every morning. It kicks starts my day and doesn't leave me feeling drained later. After starting the Thermo FX program, that pesky last few pounds of baby weight seemed to melt off. I highly recommend this product!"*

Tara, California
"Taking Thermo FX and doing the 18-Minute workout, along with the 'Stop Eating So F#@%ing Much Diet' book, helped me blast right through my plateau. The scale started moving again! I've gone down about 4 or 5 sizes (which would probably be more, but I still have a diastasis recti that has gone down a lot, but is still protrudes above my belly button)…and it's been about 7-8 months!"*

Danielle, New Jersey
"Being a mom it just makes it hard to get back in shape. But with this stuff I lost more weight way faster. What a boost!"*

Mom of two
I SHIP DAY AND NIGHT TO MILLIONS THROUGHOUT THE USA!
My 3-STEP PURITY PROMISE
My 3-Step Purity Promise is an iron-clad policy that guarantees safety and efficacy of every plant-based medicine that comes out of my lab.  Using the exact same standards I used as a pharmaceutical bench chemist, it goes far beyond the basic requirements of United States Pharmacopeia (USP) and the grocery store term, "organic."  No other company in the world can promise this.
First, it guarantees that every medicinal ingredient is derived and identified from plants, herbs, spices or aquatic life - nothing synthetic and not a single "vitamin" is used.  Second, it guarantees that every product is free of pesticides, insecticides, and any other type of inorganic products. And most importantly, it promises that there are no hidden sugars or artificial flavors in any formulation!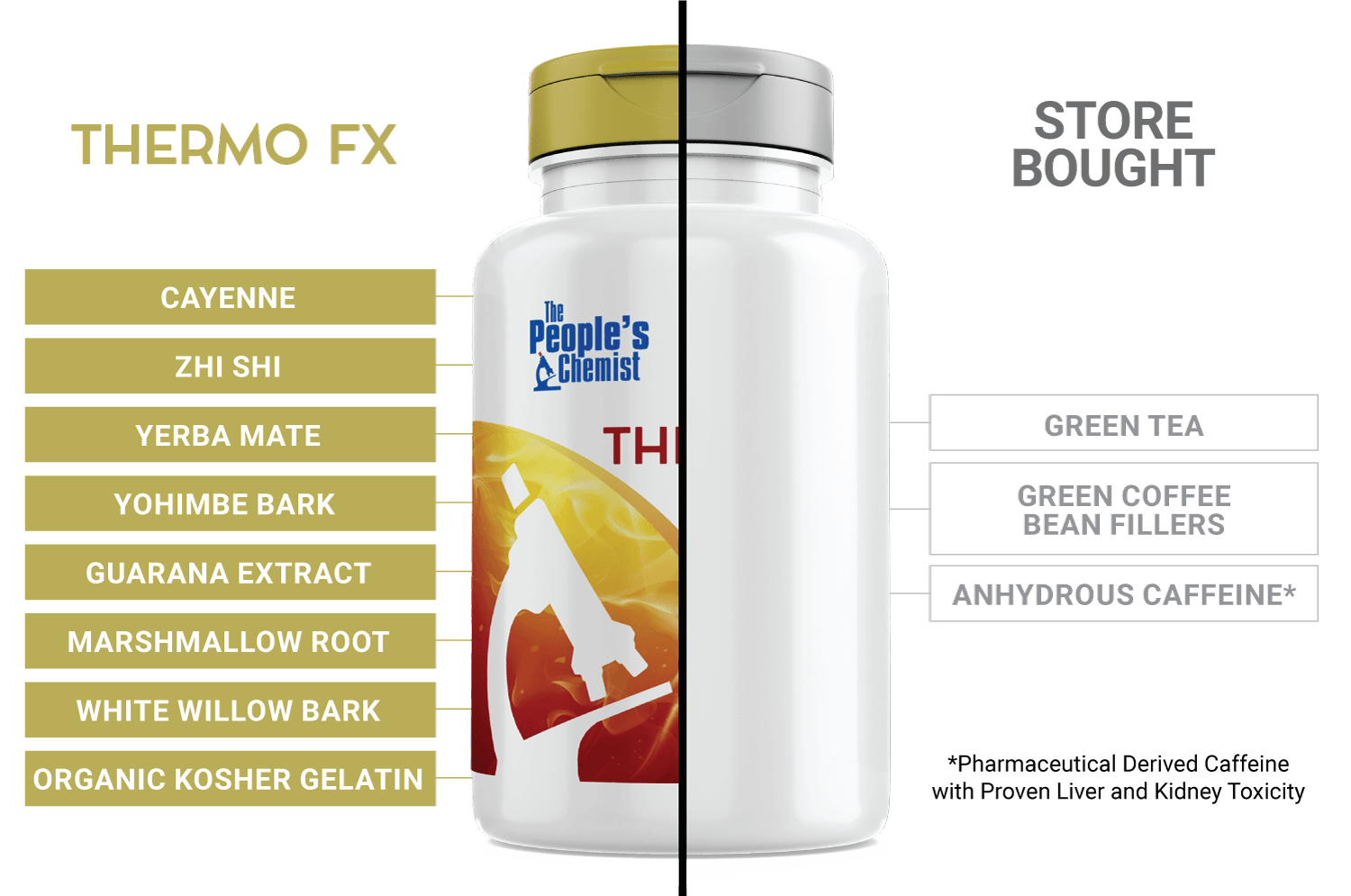 Nature's Most Potent Metabolic Activator That Shields You From Overeating and Unsightly Belly Fat
Supplement Facts

Serving Size 1 Capsule

Servings Per Container 45

Amount Per Serving
%DV
Thermogenic Blend
675 mg †
Salicin 25%, Guarana Extract 50%, Zhi Shi 30%, Marshmallow Root, Yerba Mate, Cayenne, Yohimbe 8%
† Daily Value (DV) Established

Other Ingredients: Organic Kosher Gelatin

15% OFF 3 BOTTLES OR MORE!
Frequently Asked Questions
As with most of our supplements, individual needs vary, so we provide a range to meet everyone's needs. To start, take one after lunch. That's it. Do this for 2 weeks.
If you need to lose 50 to 100lbs, take one after breakfast and one after lunch.
If you're taking Thermo FX as a party pill or simply want enough energy to rip somebody's arm off and beat them with it, then take one capsule 30 minutes prior to the planned activity. If you are over 200lbs, two capsules are best, especially if you're striving for one more round in Vegas.
You'll know. And when you do, you'll make sure you have more in your medicine cabinet for tomorrow.
Thermo FX (sunrise colors) is designed to boost energy levels and help increase thermogenesis (the conversion of fat to heat) while preserving muscle. To this end, it ignites mood boosting hormones and neurotransmitters that elevate focus. It also drastically curbs hunger and sugar cravings. It's Mother Nature's way of telling us we are better than fat and can "fight fat right back," and have a damn good time doing it.
Nighttime Thermo FX (nighttime colors) are designed to maintain thermogenesis "during the night," without keeping you awake. If you mistakenly take the daytime Thermo FX, you'll know it. You won't get a wink of sleep. So remember, sunrise colors, daytime; nighttime colors, nighttime. The latter is also labeled "Nighttime Thermo FX." We color-coded the bottles to make this easier.
No, ephedra was banned by the FDA on April 12, 2004. None of The People's Chemist's products utilize ephedra in any of its formulations.
It should not make you jittery. But if you have not been in fat burning mode, you might feel a "transition." To make this smoother, you MUST eat according to our HIT program, which means to never take this on an empty stomach. And make sure you are getting the majority of your food from healthy fats and taking in Whey Advanced daily!
No. You do not want to be pushing the boundaries of thermogenesis. This would direct energy away from the vital process' of birth and breast feeding.
Nature's Most Potent Metabolic Activator That Shields You From Overeating and Unsightly Belly Fat
Supplement Facts

Serving Size 1 Capsule

Servings Per Container 45

Amount Per Serving
%DV
Thermogenic Blend
675 mg †
Salicin 25%, Guarana Extract 50%, Zhi Shi 30%, Marshmallow Root, Yerba Mate, Cayenne, Yohimbe 8%
† Daily Value (DV) Established

Other Ingredients: Organic Kosher Gelatin

15% OFF 3 BOTTLES OR MORE!